Limited Time Only
First Month Only $124.50!
Long Island's Premier Mobile Storage Solution!
Why choose our portable Storage?
Men On The Move always strives to offer the best for our customers, this is evident in our Storage Cube product. Here are the top reasons why Storage Cube is the better choice!
It's insulated!

No other portable storage company on Long Island offers an insulated container. If you care about the items you will store in your unit,

trust the Cube!

It's weather resistant!

Our Cubes were all constructed in within the last 2 years, taking advantage of the latest weather resistant technology!

Premium quality, value price!

Take advantage of our nimble operating structure by ordering the best mobile storage units for the lowest rates!
8' wide x 16' deep x 8' tall

Premium R8-Rated Insulation

Weather & Rodent Resistant

Horizontal (tilt-fee) Loading System

Rubberized Flooring System

Easy-To-Use Swing Doors

Locally Owned & Operated!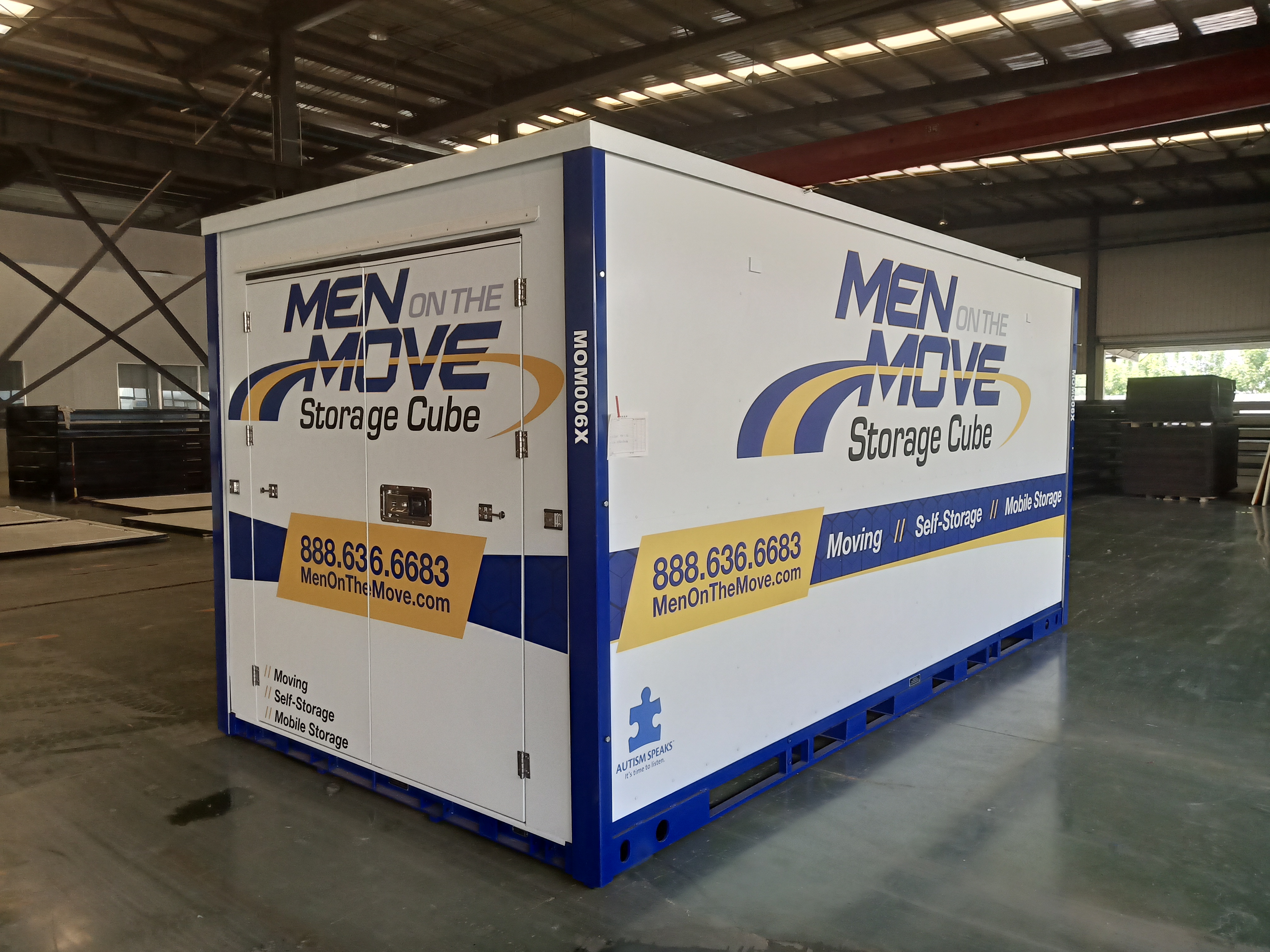 Barn Door Feature:

Provides a more weather resistant solution, while allowing more storage space within your Cube!

Weatherproof Features:

Our Cubes are built with New Yok weather in mind! Including steel and frame and panels with R8 insulation!

Value:

We strive to provide the best value in price and product!

Locally Owned & Operated:

Rest assured knowing your supporting a Long Island based portable storage company!

Fits anywhere a car fits:

While other portable storage companies require a 12' minimum drive width, our Cubes only require an 8' wide drive isle!
Men On The Move Storage Cube is our newest division! As Long Island's most award-winning moving and self-storage company, we felt compelled to offer our customers every type of moving and storage service in the market! Enjoy the same reputable quality service you've come to expect from the Men On The Move family over the past 3 decades!
PROUD SUPPORTER
Men On The Move is a proud supporter of Autism Speaks. So much so, that we proudly display their logo on every one of our trucks! John Beyer, President of Men On The Move, has previously held the Chairman seat on the Long Island Chapter of Autism Speaks, and remains on the board today. Learn more about Autism Speaks and how you can promote autism awareness by visiting
autismspeaks.org
today.
Suffolk County
New York City (NYC)
Office Hours:
10:00 AM - 4:00 PM - Sunday

9:00 AM - 6:00 PM - Monday

9:00 AM - 6:00 PM - Tuesday

9:00 AM - 6:00 PM - Wednesday

9:00 AM - 6:00 PM - Thursday

9:00 AM - 6:00 PM - Friday

9:00 AM - 5:00 PM - Saturday